Spring is a long time coming this year, and winter just doesn't want to go away. I'm getting itchy feet though, and today I decided to check the road to a trailhead up on the mountain. The Forest Service usually grades that road in April, but the way the weather has been I knew they hadn't got around to it yet. I heard from a neighbor that there was a bad spot in the road that might be impassable to a truck pulling a horse trailer, so today I loaded the dogs in the truck and headed up the mountain to check things out for myself.

I had hardly left the paved road and started up the mountain when it began to rain. It rained most of the way, but the sun was out at the trailhead. There was some loose rock in the road in spots where it had slid off the banks, but the road was a long way from impassable. A piece of cake really.

While I was still a mile or so from the trailhead I turned the dogs out and roaded them in front of the truck for some exercise. I left them loose at the trailhead while I walked around and looked things over. A couple of dead snags in the corral had snapped off, but little damage had been done to the fence. Someone with a chain saw will soon cut that up for firewood.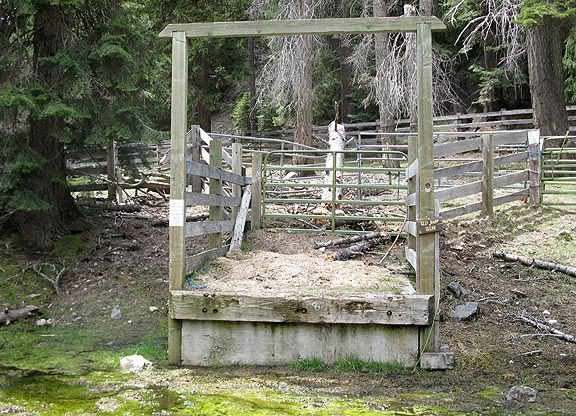 I had to chuckle at a notice that had been posted on the Forest Service sign board. I guess there really are some people who need to have this spelled out for them. The notice is under glass which picked up my reflection as I took the picture.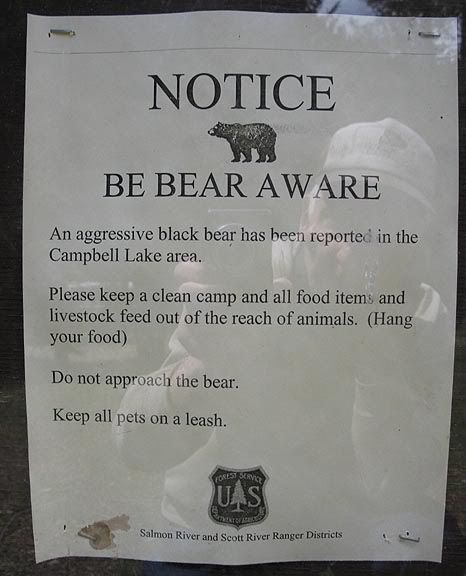 There were still a few patches of snow laying around, so I know it would be a waste of time to haul a horse up there for awhile. If there is snow at the trailhead, there will be a lot more of it just a short distance up the trail. Deep rotten snow that is treacherous to try to cross with a horse. Oh well, I still have plenty of spring chores to do around home, and I can get in a little riding time just up the hill behind the house.