WOW! When Mother Nature decided it was time for summer she really turned it on. Temperatures have been hovering right around the century mark, give or take a degree or two. My solution to hot weather is to set up a camp somewhere in the mountains, at elevations higher than here at home. It's still hot, but not as hot as it is here in the valley. Much of the high back country, that accessed by trails in the wilderness areas, is still inaccessible due to the lingering snow pack; but there are still areas I can reach with the pickup. I can't make the long rides necessary to reach the high back country by horseback anymore, and my hiking legs are pretty well shot too. If nothing else, this trip proved that beyond doubt. I have a simple choice to make. I can take it easy, keep the rides short, and continue to enjoy it as much as I can; or throw in the towel and give it up entirely. I'm not ready to do that yet!

I pulled out of here on a Monday morning, truck and horse trailer loaded with camp gear, horse, and dogs. I was on my way to Lover's Camp located in the Klamath National Forest, and only a short drive from home. When I arrived in camp I found that someone else was already occupying my preferred spot; the first time in all the years that I have camped there that I found someone there ahead of me. As it turned out, it was for the best. There was way to much activity around the main camp to suit me, and for what I had in mind. I turned right around and went back down the road to a spot where a packer used to camp while he packed deer hunters into the wilderness area. Hardly anyone camps there anymore. It lacks the convenience of an outhouse, public corrals, and running water from a spigot; but I had the place to myself. So I had to pack water from a creek and take a walk with a shovel when nature called, but there was no one around to bother me and I could turn the dogs loose without anyone complaining.

I set up my camp the way I usually do; stretching a tarp out from my horse trailer for shade and protection in case of rain. My camp stove and water container sit on the fender of the trailer, and my cot and bedroll are inside the trailer. Ice chests containing food are placed in the shade, and sometimes covered with an additional tarp for increased insulation.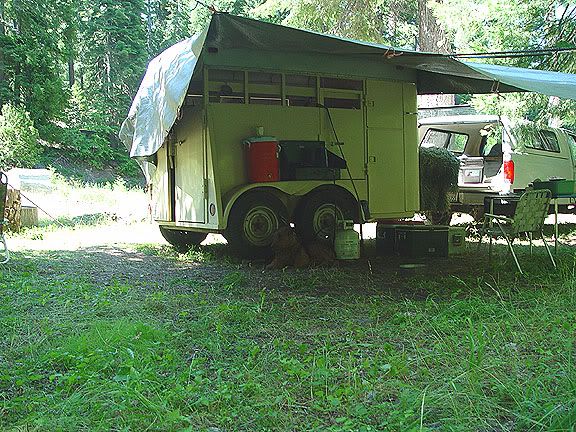 I set up my portable electric fence as a corral for Sis. She is an old hand at this, and a good camp horse. She probably wouldn't go anywhere even if she did get out; just crop some of the grass around camp.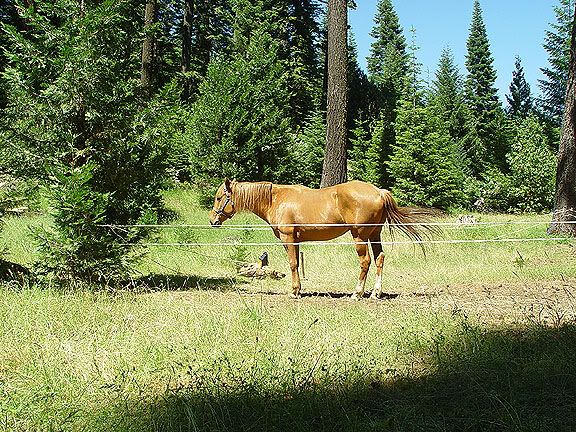 With the work of setting up camp done, and my animals taken care of, I was free to kick back and enjoy the surrounding country. Just lay back in the shade if that was all I wanted to do. This trip was ideal for Chigger; one of my main objectives and the reason I wanted to camp where there was no one else around. For once I could turn him loose without him getting into trouble or bothering anyone. He was free to be a dog, and do whatever dogs like to do. He had plenty of room to burn off excess energy, which he has plenty of, or just lay around camp. He learned a lot about being a good camp dog.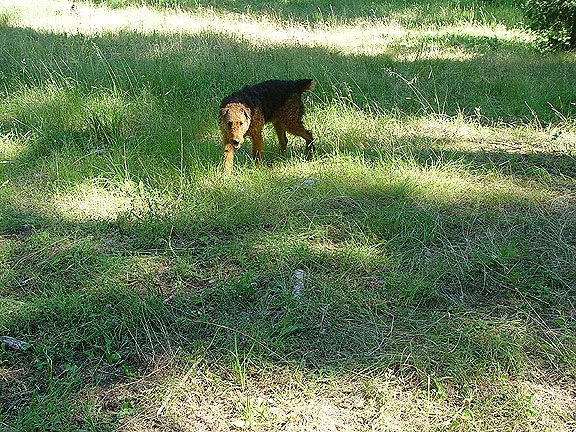 The trails out of Lover's Camp are practically bridle paths until higher country is reached. Nothing that I would call rough at all. I was told that there is a bad spot on the trail to Sky High Valley where there was an avalanche last winter. I have been to Sky High many times, and fished Sky High Lake, but that is well beyond my capabilities now. The old knees and hips can't take it anymore. I settled for easy rides every other day, and kept them short. There was a time when I chuckled under my breath at old timers as they climbed up on a stump or big rock to get aboard their horse. Hey, it isn't funny, and I'm not laughing anymore! I'm that old timer now. Not only do I have to get up on something to climb aboard, but if I ride to far I darn near need help to get off!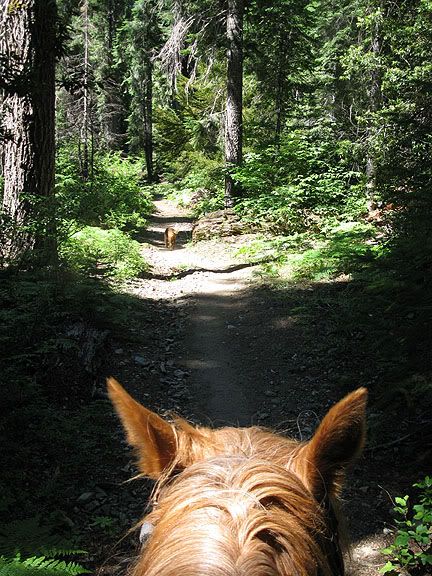 There really wasn't much chance for fishing on this trip. Not only are the lakes above Lover's Camp beyond my reach these days, but there is only one place where it is possible to get near Canyon Creek where the trail to Red Rock Canyon crosses it; and then for only a few yards in either direction. It was a good place for the dogs to water up and cool off, but not much of a place to wet a line.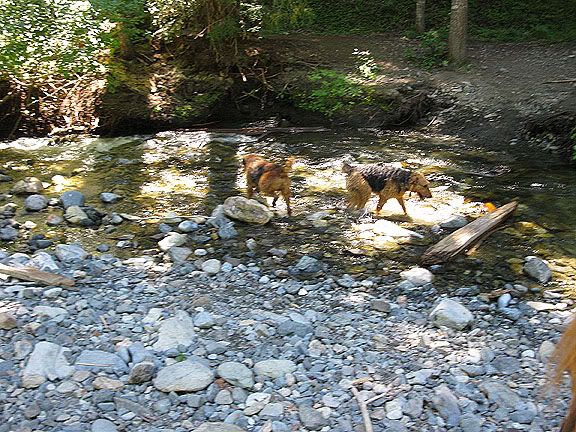 This is steep country, and although I had a creek right at camp there was no chance of fishing it. It is a fast moving little creek that tumbles off the side of the mountain and runs under the road through a culvert where I filled my buckets for camp water and led Sis to drink. From there it splashes down the canyon behind camp, so steep that someone had tied a rope to a tree so they could climb down and back up from the creek.

In all I spent 11 days in camp, mostly by myself with my dogs and horse for company. An old camping buddy came up to visit for an afternoon a couple of times, but he wasn't prepared to stay and camp. I would take Sis and the dogs out for a morning ride about every other day, but afternoons were best spent flaked out in the shade. I caught up on some reading material I had been saving. I had meant to stay a couple of days longer, but I ran short of feed for the horse. I'll have to take along a little more hay next time. So I'm home again, at least for a week or so while I get caught up on things around here. I ran into trouble with my well pump immediately upon getting back home, but I have that fixed and have running water to the house again. Bad time for pump troubles with afternoon temps still at 100 degrees or more. I'm already making plans for another trip to a different place, hopefully with some chance for fishing this time.