My second camp this year was a little cooler than the first, thank you very much, but not as enjoyable in some respects. There is more than a little of the hermit in me, and I enjoyed the solitude of my first camp. This time there were far to many people and to much activity for my liking. The dogs had to be kept tied much of the time. There are public corrals and an outhouse at this camp, but more conveniences means more people, and there really was no place else to camp nearby. There were a few times when I seriously considered packing up and going someplace else if it hadn't been so much trouble; then things would quiet down as people either packed up and headed up the trail or went home. I had peace and quiet for awhile, at least for the time being.

Fishing? Well yeah, kind of, considering there was no chance to fish at all at my first camp. It was an eye opener for me though. I have been geared up for fishing the high country lakes or many years now, and it has been a long time since I fly fished a creek. I spent considerable time learning all over again. I used the same rod, reel, and line that I used back then, but to my dismay I found that I couldn't see the fly much of the time, and unless the light was fairly good I couldn't even see the line. The old eyes aren't as good as they used to be. For a short time I rigged up a spinning rod with a small Panther Martin spinner, and caught a trout on the first cast. I kept fooling round and soon hung up on the rocks and lost the spinner. The only practical way to fish a creek like this is with a fly. Spinners would have to be very small and light, like a tiny Colorado spinner, and then count on losing many of them. I caught enough trout to keep me interested, and to fry up with bacon and eggs for breakfast, but the truth is I lost more than I caught.

No excuses, but I was really limited to only 4 pools where I could fish. On the first evening I was there, before I even started to fish, a party of local people came in off the trail. A couple of teenage boys grabbed their rods and headed for the creek while their parents unloaded and unsaddled their mules. Those young fellows could scramble over the rocks where I couldn't or wouldn't attempt to go, and reach places I couldn't. They caught several fish in the short time they were there. A few days later a neighbor of mine brought his family up for a one night campout and some fishing. Again, 2 teenage boys. Those kids not only scrambled over the rocks, but waded right down the middle of the creek. They did quite good, where I had been able to catch only an occasional fish. Ah to be young again! By the time I left that camp and headed for home, that section of creek had been pretty well fished out.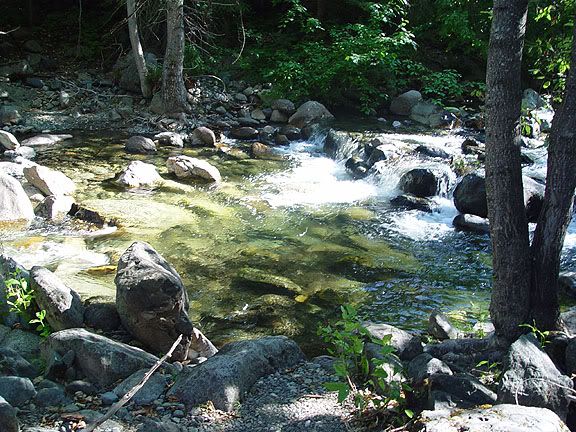 Once in awhile I would saddle Sis and take a short ride up the creek, prospecting for other likely places to fish. I see some changes I need to make. I have a couple of pack rods that break down into 4 pieces and fit in medal cases to carry them; but with these old eyes it takes me forever to rig one up and tie a fly on the line. I need one of the small telescoping rods that fold up to little more than a foot long. That way I can carry one all rigged up and ready to go. Then I could ride up a creek to a likely looking spot, fish for a little while, then fold the rod up and ride on to the next spot. Also, I have another fly reel here at home, loaded with a different color line that is easier to see. That should help a lot. It's a learning process.




There were things besides fishing that occupied some of my time. As I said, people would come and go at this camp, and at least I knew some of them. A couple of commercial packers made some trips, packing people to the high country lakes. Cattle belonging to a local ranch also graze these mountains. One day the packers came into camp with a tale to tell. A dead cow was laying in a spot far to close to the trail, and 3 or 4 bears were feeding on it. One of the packers got a dandy picture of a bear, taken with a simple cell phone camera; the bear standing with its front feet on a log and looking right at the packer. The packer had a pistol with him, and he fired a shot into the log. The bear just stood there, and none of them ran off. They weren't about to leave that carcass! From then on we tried to warn all back packers we possibly could to beware of those bears.

Later I was told that a troupe of Boy Scouts were camped somewhere along the Pacific Crest Trail, and an adult in the party had suffered a heart attack. A Wilderness Ranger who I have known for years happened to be nearby. She had a Forest Service radio with her and was able to call out. A CHP helicopter was flown in and the man was airlifted out.

On one of those rare occasions when no one else was in camp, and the dogs were sound asleep, I was flaked out in the shade and reading a magazine. I happened to look up, and there was a dandy buck standing about 20 feet from me. Of course he saw me, but didn't seem to have a care in the world. Naturally my camera was in the truck! The deer calmly walked up the road to the hitching rack I had been using for Sis, and trying to act as nonchalant as possible, I tiptoed over to the truck for the camera. I had to crop a large section of the photo out, and enlarge the important part, so it may not be as sharp as I would have liked; but here is the result. This fellow better smarten up pretty quick. Archery deer season opens a week from Saturday!