My new ENO hammock arrived a couple of days ago and I wanted to set it up just to get the "hang" of it, so to speak. Let me preface by saying that my main interest in a hammock is the comfort many "swingers" claim they provide. Especially those with bad backs! I've had chronic back problems for years, and it has been many years since I have slept on the ground. My standard camp setup is an army style cot with a foam pad. My back packing days are far behind me, so I am not concerned with weight or bulk. Even back when I was packing with horses and mules, I took along a light weight folding camp cot. The claims by hammock users of the superior comfort they provide, without a sore back in the morning, lured me on; and I decided I just had to give it a try. So new hammock in hand, I loaded the dogs in the pickup and took a drive up the mountain behind my house.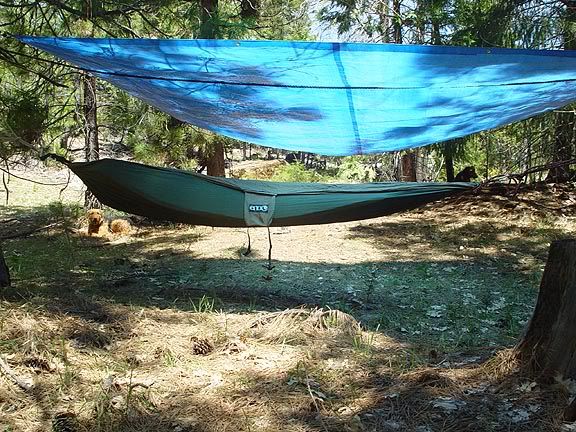 There was no threat of rain, but I put up a tarp anyway for the shade it provided. Hanging the hammock between a couple of trees was a simple matter. I put a Thermarest pad in it just as if I was actually camping, and even tossed in a sleeping bag.

First impressions:

I bought the Doublenest model, and I'm glad I did. It provides some wiggle room for a single person. If 2 people actually use one of these I assume they must be VERY close friends who like to cuddle. I've never used a mosquito net so I see no reason why I should suddenly need a hammock with a built in net.

The only way I could keep the sleeping pad from sliding out the end was to tie it to the carabiner behind my head using the straps at the end of the pad.

A pillow is necessary, at least for me.

Could I sleep comfortably on my back in this hammock? Not a chance; but then I don't normally sleep on my back.

Can I lay on my side in this hammock? Well sort of.

Could I sleep comfortably like this? Remains to be seen.

Right now I have mixed impressions. I suspect there may be a learning curve to sleeping in a hammock, but I'll give it a good honest try later this summer when I start doing some serious camping. Even so, I can see where it might be a handy item to have along just for lounging around in a camp during the day. In fact it folds up so small that I might just leave it in the truck all the time, in case I want to hang out in a shady spot through the middle of the day. It only takes a couple of minutes to sling it between trees.